Testimonials
Testimonials – text as received!
17th August 2018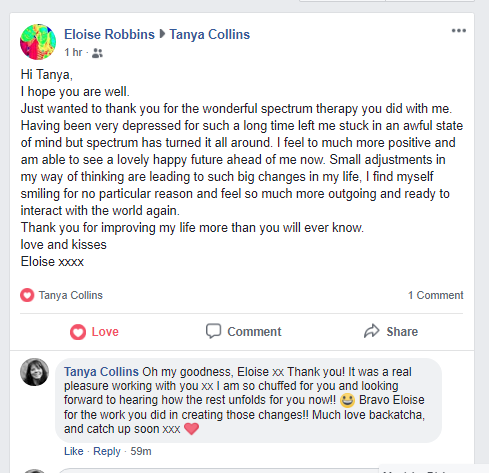 16th August 2018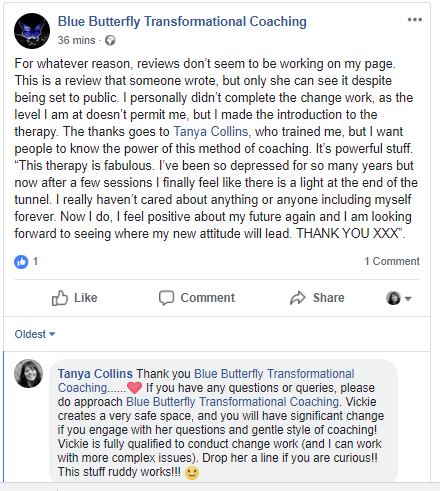 ~~~~~~~
 9th May 2018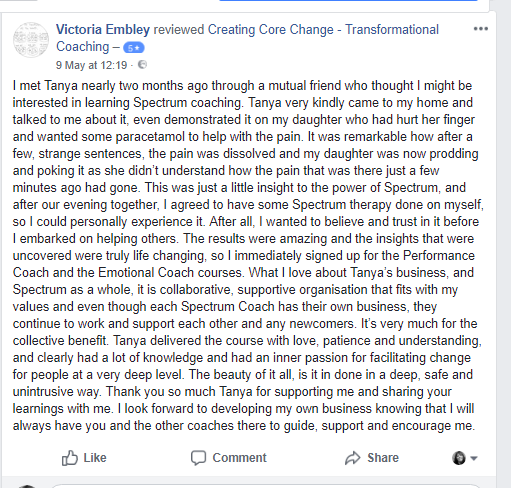 ~~~~~~~
Kate Leafhead – 10th March 2018
I have just been on an amazing learning adventure at a Spectrum Performance Coaching training. And I do mean amazing! Run by Tanya Collins, Wendy Smith and Gavin Damant, the feeling of energy and love in the room was phenomenal, providing a truly supportive – and fun! – learning space. The mental tools they shared with us are extremely powerful, and I can put them to use immediately to help my clients – and me – get rid of those negative resources that hold us back and install positive ones that propel us forward.
I thoroughly recommend this course to everyone who is interested in learning to be the best they can be.
A massive thank you to them and to my fabulous co-trainees!
~~~~~~~
Nicky Mannin – 8th March 2018
I have lots of thanks to give to Tanya for the training the course and thanks for Wendy and Gavin in their assisting in The Creating Core Change Spectrum Performance Coaching course which I attended in the beginning of March.
All have excellent sets of skills knowledge and valuable insights and experience which makes the course an absolute delight to attend. All three days were for me the beginning of where I want my life to be , goal setting and removing blocks that were holding me back. I loved every part of the course and I didn't want it to end. If only school's could teach this kind of mind power and show this much enthusiasm..everyone would indeed succeed. The course left me buzzing and hungry for more. All learning should be this much fun and eye opening. Thank you. 
~~~~~~~
Kate Chorley – 16th Oct 2017
From the moment I was intro to Spectrum I've loved & valued it! The recent epic training with Tanya, Gavin and Wendy cemented previous knowledge and added many new layers!! So grateful to have shared this amazing learning experience with such genuine and inspiring people.
~~~~~~~
Vivian McKinnon – 15th Oct 2017
When you think that there are some things words do not give justice too, there are some people who do not fit any mould, there are lessons in life that never become realised and then there is Tanya Collins! If you are reading this and thinking "do i want to trust this individual with my "stuff" Or "Is this training really worth it?" my advice is go for it, you have come to the right place 🙂
~~~~~~~
Sindy Matthews – 15th October 2017
I've just been on Spectrum Performance Coaching Training….I'm sat here trying to think of the words…I'll list them…buzzing, epic, amazing, awesome, rapport, life changing, positive, colours, wow…I could go on with the positive words…Tanya Collins is friendly, inspirational and a well read individual. You will feel calm, feel equal, safe, comfortable and here I go again with the positive language…It's all true folks. 
Being on this course has helped me to realise that I already had the answers…I just needed the support, language and guidance from Spectrum and meeting amazing people.
Spectrum is unlike any course I've been on. 
I've had Spectrum for a number of reasons with Tanya Collins. As Coaches we cannot change you, you want change….you create it. I feel so strongly about Spectrum…because it flipping works!!!
What to expect….
To meet awesome people,
To learn how language can encourage your subconscious to try things on,
To let go, realise life is worth living and move on.
If you really want to change…you can…with Spectrum. 
I'm going to shout this from the roof tops!!! Spectrum works…get on it! 🙂
Thank you to Tanya (a true legend). You delivered the course at a great pace and I feel confident that I can now work on performance with my clients. You totally ROCK!!! Looking forward to Emotional Coaching next month with you!!!
~~~~~~~ 
Wendy Smith –  14th Jan 2017
Tanya attended a workshop recently which was being held by myself & a business partner. We asked if she would do a presentation on Spectrum Emotional Coaching. She is an extremely knowledgeable woman with a visible passion for the work she is involved in. Tanya works with a heartfelt authenticity that is rare. She has an inner sparkle that makes you curious to know more about any subject she is talking about. A genuine open individual and amazing intuitive emotional coach whom I would recommend her services to anyone wanting to experience deep change now. I am thoroughly looking forward to working with Tanya in the future on numerous projects for social & emotional change/growth. 5*
 ~~~~~~~
10th December 2017
I visited Tanya as a result of a relationship breakdown which had left me suffering months of all consuming grief and guilt as I blamed myself for the failure.  I felt I had anger management issues and was unable to stop crying.
Tanya's patience and skill reached the root of my perceptions and turned my thinking around.  My perspective became clearer and disproportional anger no longer an issue.  Because of being able to think in a different way, any feelings of mild irritation can also be dealt with easily.  I had been very concerned that I would be unable to move on to another relationship as I was convinced that my anger would spoil another one.  Tanya has given me the confidence and knowledge that my anger will no longer dominate any relationships; having cleared out negative feelings from the past dealing with anger and guilt.
A further result of Tanya's input has been a new way of dealing with my business.  My 'new energy' has enabled me to clear paperwork built up over previous months and deal with issues as they happen.   I see people in a more positive light, can empathise much more easily and I can jump out of bed with enthusiasm in the mornings.  Any desire to drink alcohol at home alone in the evenings has disappeared, and I even have very little interest for caffeine – not something I had been concerned about, but I am enjoying the unexpected bonus which adds to the feel-good factor. 
I had always been sceptical about therapies in the past, but I have been proved wrong and would highly recommend Tanya for her gentle, kind, and sympathetic approach for real success.
Anonymous – Banbury
~~~~~~~
1st October 2017
"Thank you! Thank you! Thank you! Tanya Collins for introducing me to Spectrum Emotional Coaching.
I was addicted to Class A drugs (cocaine, MDMA). I used them for many reasons. If you are an addict or were an addict you already understand addiction. So, I won't bore you with the details. 
I went to Tanya for Spectrum. I'd worked with Tanya before for something else and I knew if I saw her again, I would be able to stop this behaviour. I wanted to stop using, but at the same time I didn't want to stop. Why? Because I was fearful that if I stopped…how would I get to work in the morning? – how would I have the energy to do my job? (which includes motivating and inspiring others) – how could I stop myself from over eating and maintain a healthy weight? (I had been using coke to stop me eating) – how would I get that happy buzzing feeling that made me want to dance? Sounds great? It's synthetic…and sadly…doesn't last long. Oh! And it hit me in the fucking wallet too!!!
 We had a chat and I was completely honest, which for me was difficult, as I hadn't admitted this out loud to anyone. I knew that Tanya wouldn't judge me or change her opinion of me. I trust her. I had harboured some doubts too though, about whether Spectrum would work for me with this problem. How wrong I was!!! 
We decided on the themes and then set to work.
 If you have never had Spectrum before, or figure that it's not for you, that's okay. For me…this works…every time. 
The shifts in my behaviour changed faster than I'd had imagined. The thought process had shifted from being a victim of my negative emotions to "let's fucking sort this shit out'. 
I am no longer using drugs to mask unwanted behaviour or emotions. I'm writing gratitude lists, I'm thinking about the things and people that I appreciate in my life. I got out of my own way. I have natural energy, and when I feel tired, I am just tired. That is ordinary and totally okay! My body, I now know can maintain a healthy weight and I accept that. I am not prepared to waste another moment of my life obsessing over it. And if I was so awful at my job I wouldn't be able to pay my bills (I'm self-employed). 
I used drugs as a distraction: from food, tiredness, low mood and as a bribe to myself! "If you do this, you can have that" – sound familiar? "If you go to work, you can have some Charlie…" 
You might think this is a cheesy line, but 'Choose Life'. Ewan McGregor – Trainspotting. If you are inspired by this, and you know your life needs to change, contact Tanya Collins. Don't use the excuse that you have no money!!! (Look at what you've been spending on your addiction – it ain't cheap!!). You cannot put a price on your life, your mental well-being. If you want it, get ready to rock your world folks – because you can have your own EPIC come-back story!!!
 Before I end this testimonial, a few words about Tanya. She has created such a warm, safe and welcoming energy at her practice. The space is light and the temperature is cosy. Tanya's approach is friendly, soft and will bring you comfort. I'm fortunate to have met you Tanya. I avoided you: I wasn't ready to let go of the hurt, sadness, guilt, anger, anxiety and fear. The moment I heard your name in conversation one day…I knew…it had to be you. You are an expert in your field, a true friend! Everyday I am grateful for you!!! "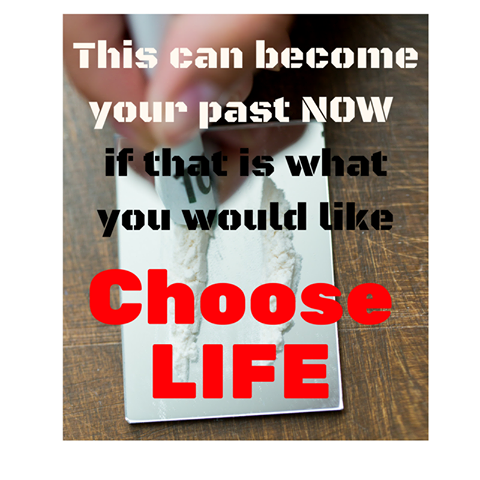 ~~~~~~~
26th September 2017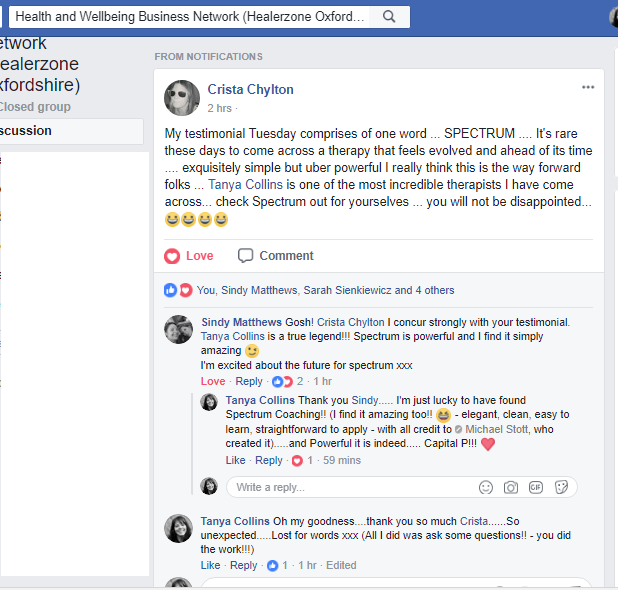 ~~~~~~~
3rd August 2017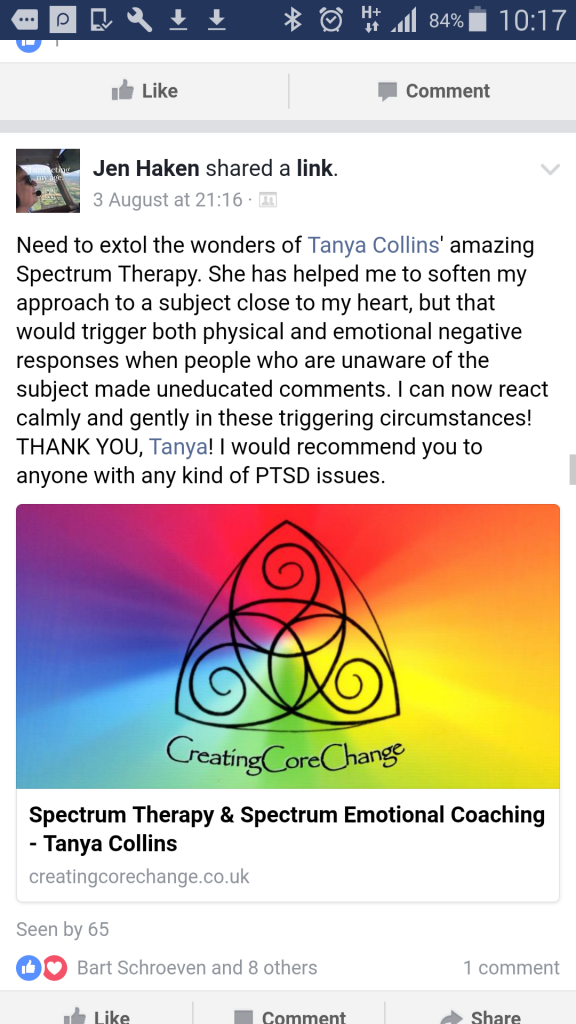 The above post from Jen Haken, originally in The Oxfordshire Project Members group, was shared with her permission. Marie-Therese Winning very kindly added her own comment too….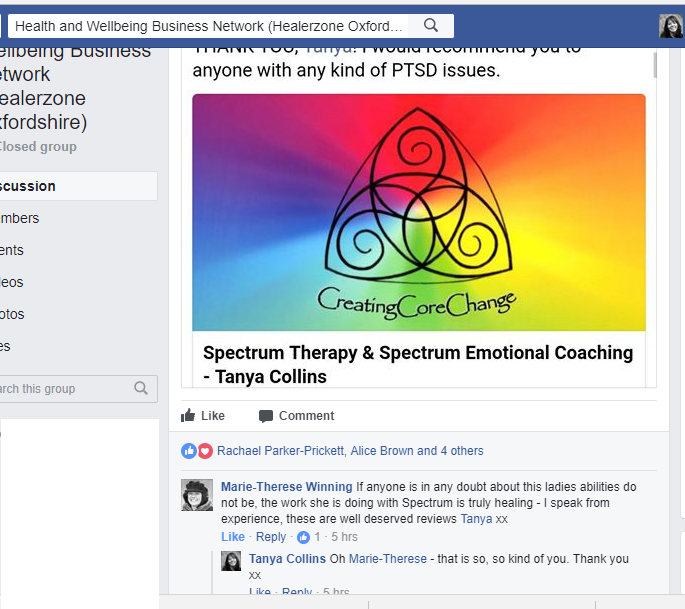 ~~~~~~~
19th July 2017
"The Spectrum work that Tanya does is powerful stuff. If there's somewhere in your business or life where you can see possibilities but are not realising them, I recommend working with her. The rapid shifts I've experienced after a session have been both surprising, and in retrospect, exactly what I wanted to see happen."
Jennifer Manson, COO, GaasWorks Ltd.
~~~~~~~
26th June 2017
"I was recommended Tanya by a friend, I was getting very anxious about things in particular at work: working for a big company with handful of reports and constant barrage of deadlines. First meeting I didn't know what to expect but quickly became comfortable and have very easy conversations. I started with a bit of apprehension and scepticism which were quickly addressed. Sessions were very 'effortless' at the time but felt tired afterwards. Tanya works hard to create the right environment to work with you. I've learned a lot about myself and others, dropped some negative habits and developed some better ones. The work we did has helped address my anxiety levels so that I see trigger events coming and can choose to react in a better way and feel comfortable and content doing that, so overall my anxiety levels are so much lower, regain into the ability to sleep up to the early morning alarm clock has been wonderful."
~~~~~~~
14th December 2016
It has taken me a while to write this review! Tanya is a genuine caring and kind person who balances professionalism, friendship, patience and honesty perfectly. I spent a few weeks with Tanya, during a period in my life that felt completely impossible. It was a journey. And still is. I embarked on a few methods of therapy however, Tanya began my core change with an extremely gentle approach; looking back it was remarkable. I never re-lived anything traumatic and she enabled me to feel comfortable to speak as much as I needed or to say nothing at all. I would recommend anyone who is besides themselves with whatever problem they are having to see Tanya. I know it kick started what appears to be now a wonderful journey. You can't teach compassion (I needed buckets full) Tanya has more than enough to go round. Thankyou X
Sandra Grant, 14th December 2016
~~~~~~~
14th January 2017
Tanya attended a workshop recently which was being held by myself & a business partner. We asked if she would do a presentation on Spectrum Emotional Coaching. She is an extremely knowledgeable woman with a visible passion for the work she is involved in. Tanya works with a heartfelt authenticity that is rare. She has an inner sparkle that makes you curious to know more about any subject she is talking about. A genuine open individual and amazing intuitive emotional coach whom I would recommend her services to anyone wanting to experience deep change now. I am thoroughly looking forward to working with Tanya in the future on numerous projects for social & emotional change/growth. 5*
Wendy Smith
~~~~~~~
October 2016
Lasting Change
I worked with Tanya in July 2016 but held off writing a testimonial until I knew the change was permanent!
I was an anxious person; sometimes I would lay awake at night with my stomach churning and yet not know what I was anxious about. I would worry about decisions I had made and about getting through endless job lists. But no more! Since working with Tanya over 3 sessions, I am generally calmer, more at peace and much more able to cope with day to day stresses. I feel more at peace with decisions I make and no longer lay awake at night stressing. As a result, I am generally happier, calmer, more positive and have increased energy to enjoy life!
Thank you Tanya
Banbury October 2016
 ~~~~~~~
29th July 2016
Speaking with a client tonight has been really interesting. He has been taking away old layers of "stuff" that has been holding him back, and tonight he said this:
"There has been a lot of change. It's funny, I feel a lot more grounded, solid. I cannot put it into words: I'm more productive in my work, in what I do. I've got a lot more clarity in doing things – in what I want. I'm not scared about it – just excited about it!"
~~~~~~~
17th May 2016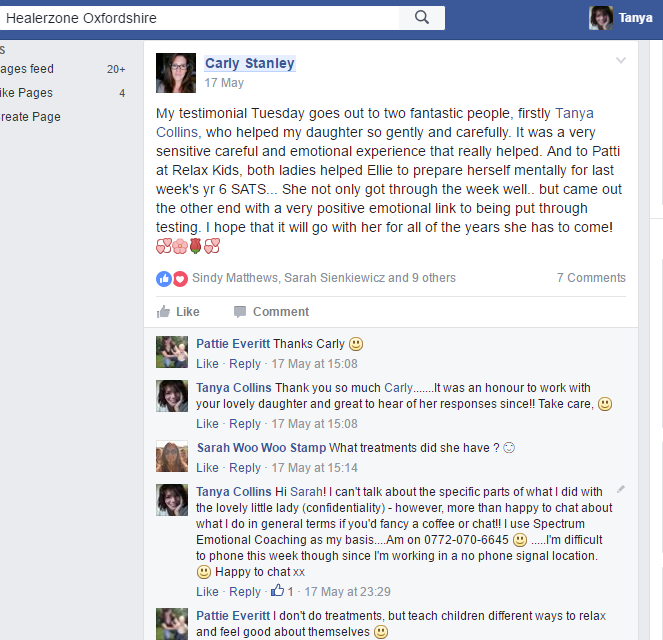 ~~~~~~~
18th April 2016
"I went to see Tanya Collins after a recommendation.
I was not in a very good place, having lost my job of 10 years quite suddenly. As a result of this, I was drinking too much too often, just to ease my guilt/shame/general unhappiness.
I knew I was depressed, but did not know who to deal with it. I fought it, trying to act "normal" when all the time I just didn't feel like me.
After a few sessions with Tanya, I started to notice a difference. It was not instantaneous, but with her calming attitude and way of listening, I gradually came out of my "slump". I am not too sure of the workings of Spectrum, which she used on me, but I know this was a large contributor in my recovery.
I would recommend her to anyone who is in distress or lost their way."
 ~~~~~~~
5th April 2016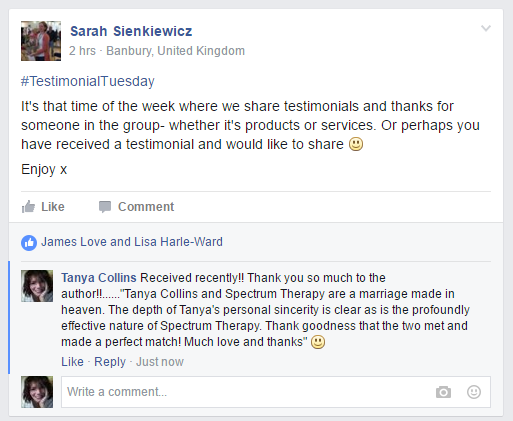 ~~~~~~~
7th January 2016
"I had been through a number of therapies for various problems, stress, anxiety, depression and as a result of these, alcohol abuse. I have to admit that I was sceptical, (and told Tanya on my second visit!) but I think because I was nervous and sceptical on my first visit, I didn't allow myself to relax and get in the flow. Tanya told me this was normal and what my expectations should be. Still sceptical, I accepted her words and let myself go and had amazing results thereafter. I had shedloads of baggage that needed clearing. What amazed me was that incidents I had completely forgotten about came back in vivid detail and I was able to expunge the negativity associated with so many events, not just the one I remembered. I'm the most normal I have been for forty+ years and it's thanks to Tanya, to have the happy feeling in your belly rather than dread is an amazing feeling – I'd recommend Tanya without reservation. I'm almost normal, but my friends say that's quite good!" – N
~~~~~~~
8th December 2015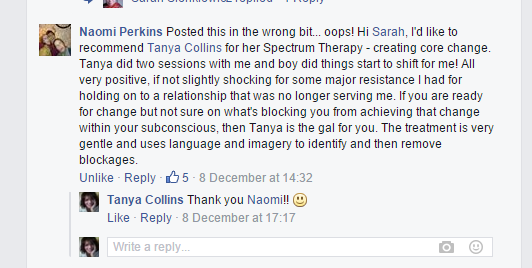 ~~~~~~~
November 2015
"I decided to contact Tanya for help with anxiety that was gradually getting worse and affecting my sleep, energy levels and daily life. I knew it was connected to my Dad dying suddenly in my teens but hadn't realised my feelings of anxiety and overwhelming responsibility had actually started further back during my childhood but were aggravated each time I faced a life-threatening illness or death in my family. I didn't want get upset and talk in detail about past traumatic events but I was ready to change and open to the relaxing process Tanya described and from the testimonials. I also preferred the short course of treatment offered compared to longer types of counselling. The sessions enabled me to safely deal with the emotions attached to the memories, there were a few tearful moments but I now feel calm, relaxed and more able to cope with stressful events as they come, see them for what they are and let them pass. I feel that I am back to my normal self and more able to enjoy life again."
– M.S.   19th November 2015
~~~~~~~
September 2015
"Tanya has been absolutely fantastic! Tanya helped me clear up so many lingering issues with regards to my family and beliefs about myself. I had no idea I had some of these negative beliefs there but sure enough they were discovered through the emotions showing up. A Tanya listen intently to what I had to say and noted down not only the changes but also the potential challenges I was living with. I felt very safe with Tanya and she really provided a place where I could look at what was showing up and then make the changes with Spectrum Therapy (it was painless and, actually once connected to my unconscious's was quite a fascinating Journey). The results have to be experienced to understand it. Things which used to bother me don't even show up any more. I used to be angst ridden with family issues but no longer. My partner has also noticed how I have mellowed and relaxed and when things do bother me, they no longer take the days for me to get over it; more like minutes. My relationships have improved significantly with my parents as well as my partner which makes me think that the 'problems' I had with them, was me carrying those thoughts around with me. Spectrum itself is a very gentle and intriguing approach. All the while, I felt at ease and found the experience quite enchanting. I would say that a massive chunk my 'issues' have been cleared up using Spectrum with Tanya. I know there are small parts left but the feeling of being clear and free of them is quite joyful. I would recommend Tanya highly to assist you with rediscovering the real you."
 – M.B.  Banbury    16th September 2015
~~~~~~~
August 2015
well where do i start, only months ago i was so so so fearful of flying i can not explain how petrified i was, after i had booked a flight i use to have to fight myself not to cancel it and the last few years it got so bad i just didn't book to fly any where. Then i Joined KSFL with Sindy KSFL Club and at one of the evenings Sindy was talking to the group and then introduced another Lady Tanya Collins, Tanya talked about what she did and how she has helped people with fear ETC, I listened and thought well i think this lady can help me (even though i had been to other things to clear it and they hadn't helped me i still had this good feeling) so after a few weeks i booked a holiday to Antigua YES AN 8 HOUR FLIGHT, as soon as i had done it i was just full of fear and couldn't sleep thinking why on earth have i done this too myself so i got in touch with Tanya as most of you will know from my last piece i put on here and we worked through it, WELL normally a couple of weeks before i use to fly i was burning all the cases in sight so i couldn't pack lol it was just horrendous BUT this time and its mind blowing I WAS PACKING 3 WEEKS BEFORE AND SAYING I CANT WAIT TO GET ON THAT PLANE !!!!! I was just so excited about flying i could not believe it. I did video myself at the airport to show how excited i was but couldn't get it on this page, i was running as soon as i got through the boarding gate as i couldn't wait to get on that plane quick enough it was just amazing, i sat by a window seat with my nose up against the window, i nodded off at some point and when i woke my nose was still suck up against the window ha ha ha, Tanya Collins you have changed my life in such an amazing way i cant thank you enough, thank you Tanya from the top of my head to the tip of my toes xxxxxxx
– Roxy      9th August 2105
~~~~~~~
July 2015
Tanya Collins, you are just amazing !!!!!!!!!!
well where do i start, i really need to share this with you all, 4 months ago i booked a holiday to Antigua with my partner as always wanted to go to the Caribbean and this year i turned 50 and decided this was the time, now this was the problem, the flight is ten hours and i cant tell you how PETRIFIED i was of flying and heights, i really cant tell you how bad i use to be.
In the past i have booked a holiday and from that day on wards gone on and on and on about cancelling it due to having to fly, i never did but it was the worst time of my life getting on that plane for the few hours it took to get me from A to B and then worrying about the flight back home usually the day after we got there !!!!!!, i use to look like a complete wreck when i got back home after a holiday by plane not like others talking and getting so excited about going away and getting back looking all relaxed and ready to go, The last 3 years due to this fear we have just gone away in GB not having to step any higher than getting in to a camper van, caravan or motor home.
But one day Sindy KSFL Club was being held in Brackley and Tanya came for a talk about spectrum therapy with every one, I did know Tanya but had never sat down and listened to what she did, WELL i was so interested that i asked a few people that new her if they thought she could help me with heights and flying…….the answer was yes !!!!!.
So i got in touch with Tanya and we sorted some dates, the first one was where Tanya had a chat with me and found out what she needed to know to see if she could work with me and the answer was yes and lets get you booked in,Tanya is such an intelligent soft speaking lady and at that moment i just felt so confident and safe to open up and im telling you i have had normal counseling and other things for heights and flying and i have just been the same after.
well i had my first few sessions and came away thinking hmmmmm i dont feel any different, so any way the wek end came and my partner and myself were in the garden sitting on a seat with the sun beaming down, at that point i got up and was saying hey !!! i bet that flat roof of mine is a great little sun trap. at that point i got up out my seat and went walking up to a ladder that was against the wall of the flat roof and just CLIMB UP AND STOOD AT THE TOP SAYING WOW WHAT A GREAT VIEW !!!!!! my partner sat there and after knowing me for ten and a half years there mouth just dropped, i said whats up dude they said YOUR ON A ROOF, OMG it was just amazing i can not explain the feeling i was jumping around and laughing so loud and shouting holy bugger look at me !!!!!!!!! i didnt even think twice when i went to the bottom of that ladder it was like i had done it all my life !!!! the next morning i said to my partner, do you think that was just a fluke well they said go do it again and see, with that i picked up my guitar climbed the ladder ONE HANDED got to the top stepped on the roof and with my guitar played blowing in the wind !!! it was awesome !!!!!! Tanya you are a bundle of happiness to me, you have changed my life sooooooooooooo much !!!!!!!!
Now like i said flying was another awful fear of mine, i said as soon as holiday was booked i wanted to cancel, today is Sat 11th July 2015 and i fly to Antigua a week today and do you know what !!!!!! I cant wait to get on that plane, im so looking forward to my holiday, i cant wait to see the ground and sea from the sky, THE WINDOW SEAT IS MINE !!!!! im able to get so excited about a flying holiday again and its all down to Tanya Collins and her spectrum therapy, Tanya i can never thank you enough and i mean that from the bottom of my heart, if i ever get my pilots licence you will be the first for a free flight ha ha ha ha, Thank you again and im so looking forward to seeing to do some more work on other stuff when i get back and after i have BOOKED ANOTHER HOLIDAY HA HA HA,
much love to you Tanya
Roxy xxxxxxxxxxxxxxxxxxxxxxxxxxxxx
– 11th July 2015
~~~~~~~
Said by a client recently during a session of Spectrum Therapy:
"The sense of peace and contentment I feel is indescribable. I'm really beginning to feel like a whole person I think. I don't feel damaged any more – that's gone now. I feel good about myself – for the first time in my life, and I know it too."
 ~~~~~~~
March 2015
Thank you so much, Jane……Jane's brief to me was "I don't want to have to think about what I eat – or how I exercise – I just want to naturally get there – to let my unconscious do the work"………We've worked on a lot of aspects that were linked with health, fitness, weight, eating habits, beliefs…… See what she says now: 
"I have been working with Tanya for twelve months addressing the complex issue of weight. My intention was to lose weight with no effort, to trust my body and mind and for the whole process to become subconscious. During this time Tanya has been patient, thorough and kind. She has helped me to deal with a myriad of issues and core beliefs. I have at all times felt safe and listened too. I now have little issue with my weight, which has been decreasing gradually, and realise that my size/shape doesn't define who I am. My eating habits have changed; I rarely eat meat now and naturally eat more fruit and vegetables, I still eat 'naughty' stuff but in moderation. Exercise is more interesting and I took part in the Wolf Run last year and am 'running' with the wolves again in April. I cannot thank Tanya enough for her support, insights and knowledge and thoroughly recommend working with her if you want to make positive changes to your life. Please be warned though, your life will never be the same and you will wonder why you hadn't done it sooner."
– Jane   6th March 2015
~~~~~~~
 February 2015
"I had been going through life never really feeling truly confident within myself or in things that I did and this got me down over the years making me feeling like an utter failure to point where life got very dark & I questioned my own life. This made me constantly self doubt, doubt my decisions, my actions, if I was good enough for anybody as a friend/relative/partner/employee, I felt like what I had to offer as a person wasn't good enough, what I did was never good enough especially with learning how to drive, I feared rejection & because of this I had a very negative , almost angry outlook on life & tended to shy away from getting close to people or forming any kind of new relationships. I knew this wasn't how I'd aIways been & felt so lost as to how I'd got here.
I then met Tanya at a wellbeing day in my local area, she was giving a talk about the work she does, what it involved & how different it is from anything else out there at the moment. I was interested to see if there was anything she could help me with so I contacted Tanya & arranged some sessions.
In my consultation she explained to me exactly what Creative Core Change was all about & the way in which it works. We spoke about things which helped Tanya identify certain key factors which we needed to work on in order to gain a positive outcome. After the first session I already started to feel differently towards situations, I felt more positive, carefree, mentally lighter, energised..it was like nothing could touch me & things didn't matter anymore. I felt like I was starting to feel little snippets of my former self again. I continued working my way through all of the key points which Tanya found to be the core reasons behind why i was feeling the way i did and by the end of my sessions i felt like i was finally back to myself again!
It was like a breath of fresh air, like a massive weight had just lifted and i could finally feel content about things & most importantly about myself.
I felt so empowered, positive, stronger, braver, ready to take on the world and achieve all the things i thought i couldn't because you know what..i can..because i am me and i am awesome!
I have a completely different attitude towards situations that once got me down, i feared or they angered me. Nothing bothers me the way it used to, i can even tolerate big spiders which i use to be absolutely petrified of now i look at them & laugh thinking 'they're just getting from A to B' and leave them be.
I'm like a different person…the person i use to be before…the real me!!
I can honestly say that this has been a massive life changing experience for me & would strongly recommend anyone of any age to seek Tanya's help & advise with regards to anything no matter how big or small you think it is.
She has this soothing gentle understanding nature about her which makes you feel at ease as soon as you're in her presence & she has such a deep passion for what she does, she genuinely wants to help you & believes that you can achieve it."
– 18th Feb 2015
 ~~~~~~~
 January 2015
"I have already written about some of my experience in working with Tanya, but I wanted to share a bit more. I feel this Therapy is so amazing and the difference it makes is truly amazing. And to have someone who makes you feel comfortable at ease and that they care is also important and Tanya Collins does all of these things. I just wanted to share with people that it's not only yourself that will notice a difference in you but other people too. Some of the things I have had said to me in the last four weeks by people- ' look at you, your posture you're holding yourself so differently now ' ' you wouldn't have said that six months ago you're so positive it's amazing ' ' you have your make-up and hair done a lot more these days' ' you're eyes are alive now, there's an amazing difference in your eyes' I cannot recommend spectrum enough, it's changed and continues to change my life in a hugely positive way. Thank you so much Tanya x"
– Carlie Goode    17 January 2015
 ~~~~~~~
November 2014
"I would like to share my experience so far of working with Tanya. I met Tanya for my first consultation on October 17th and have since been working with Tanya weekly. Since the age of 15 I have had anxiety, depression, and emotional problems affecting every aspect of my life, I also have chronic fatigue syndrome which I have had for 8 years but onset was a lot earlier than this. I have known nothing other than suffering, I no longer knew what it felt like to feel ok and how to cope with overwhelming emotions. I exhausted every avenue to try and get my life on track, counselling, CBT, reflexology and more. I have to be honest when I met for the consultation I wasn't sure what to expect from spectrum as until you experience it is very hard to explain to someone how it works the way it does. After just one session I felt a big shift in my emotional state, for first time since I can even remember I felt hope for my future. As I continue to do the work with Tanya I see a bright happy healthy future which I never could see before. The changes that are happening are truly amazing and results I've never had from any other Therapy that I have tried. Tanya is a lovely lady, genuine, gentle, caring and makes you feel at ease and comfortable. I cannot recommend her highly enough. Thank you so much Tanya for working with me, I look forward to continuing the work and having a bright future. I can't express how grateful I am to have met Tanya. My life is finally turning around and believe me it's been nothing but darkness for many many years. Thank you so much x"
– Carlie Goode  19 November 2014
 ~~~~~~~
September 2014
"Tanya has worked with me using Spectrum and EFT on a number of occasions for various issues. I am struck by her sensitivity, her professionalism and her ability to tune into my energy quickly and effortlessly. I like the fact Tanya made me feel safe and at ease and will support me at my pace which on occasion has been very quick! I am amazed at the shifts I have undergone and the consequent changes in many areas of my life.
I have suffered from depression since childhood and have sought help from conventional medicine, CBT, years of counselling and other complimentary therapies which has helped relieve some of the awful symptoms. However, I wanted to get to the root of it all and decided to do a breakthrough day with Tanya. I was taken aback with the understanding and insights I had and continue to have. This was achieved without reliving any painful memories and I don't feel the same about some areas of my past that I used to find very distressing, in fact my whole perspective has completely changed!
Most of my family suffer from depression and it has followed us through generations. However, this too is changing as my mother, son and daughter have also made significant shifts even though it was only me that undertook the therapy. Wow what a great side effect!
I feel blessed to have had the opportunity to work with a therapist who has enabled me to create the changes that I thought were unattainable."
– Sharon Morris  2nd Sept 2014
 ~~~~~~~
"Tanya creates an atmosphere of safety in her work that is allowing me to dig deep and bring everything to the work. I appreciate hugely her total integrity and thoroughness as well as professionalism. Having been a therapist myself for 25 years I can easily spot the real deal when I see it… "
– 28th June 2014
 ~~~~~~~
"There are many modalities that work and in many cases it is the coming together of the right time, circumstances and team. Tanya for me is that missing part of my team. She is gentle and targeted with a wealth of knowledge and patience. She works in a way which addresses the initial 'problem' and has also created change in many aspects of my life. Be warned, she never misses a trick, which I am eternally grateful for."
– Jane, Birmingham,  21st May 2014
~~~~~~~